Dread Commander Elric Reymar
If an enemy looks you in the eye, your one job, your only job, is to make them see their blood, painting the seas red.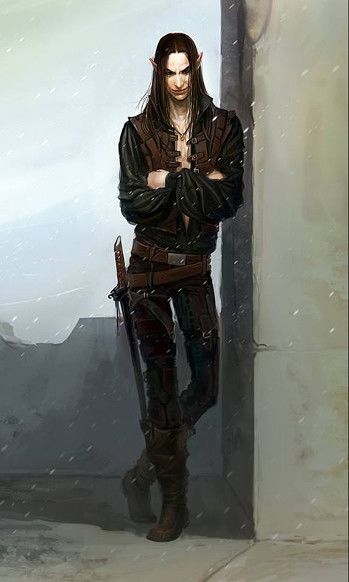 Description: Whipcord lean, this elf shows sharper edges than most of his kind, yet, when he moves it's with a grace and distinct carefree purpose. The sharper lines are brought into further focus by his pointed ears, and hard chin, darkened with the stubble of a five o'clock shadow on his sun-kissed skin. Intense eyes the same shade as the oceans themselves, are framed by strong masculine dark eyebrows. A prominent tattoo of a cresting wave frames his right eye, running from his temple to his cheek. Long back hair is often held in a clubbed braid to keep out of the way, or let wildly loose to be tossed at the will of the wind.
Personality: Rough around the edges does not begin to describe Elric and yet, the man is gifted with a rustic charm and charisma that simply attracts others to him. He's not good at mincing words, but he's good at finding the right words. He's also not above turning a polite conversation into a flash of fisticuffs when provoked, all with a big grin on his face. He's not cruel, but calling him merciful would be a mistake. He can be stubborn, in particular in matters regarding his faith in Aereth, and when he sets his sights on something he will do what must be done to see it through.
Background: Seven hundred and fifty years before the Elves would find themselves in a Aarandor, the Battle of Bloody Harbor became cause for much dissension among the Aerans. While some felt both Humans and Lorandi were properly punished for their bold attack on Loramar, others felt Admiral Ataril Marindur was too soft on their enemies. No Aeran was louder in voicing this opinion than Commander Selron Reymar of the Maelstrom Guard. Selron and most of his fleet felt that the Lorandi's punishment for turning against fellow Elven Kin needed to be far bloodier than just returning their duke back for a ransom.

The conflict between Ataril and Selron, led to the latter being branded an outlaw along with the Maelstrom Guard. In response, Selron renamed the fleet the Red Maelstrom and turned those under his command into one of the most dangerous pirate crews to ever sails the seas around Larandor. It was within those seas that Elric Reymar was born. He learned to swim, before he learned to walk and learned to kill, before he learned to love. Elric's upbringing was a violent one, a bloody one. But within all that savagery his father instilled in the young elf a very important principle. Protecting the Aeran people, even from themselves, was above all.

Elric grew up to become his father's right hand and first mate, learning from the man he would come to worship as a hero how to properly handle and command a ship and a crew. A young Elric absorbed it all like a sponge, taking in both the lessons and the beliefs his father had to share. He embraced Aereth, the Lady of the Seas above all other gods, and when his father was finally captured and executed by Elexia Marindur, accused of being a Harbinger, Elric took over his father's mission with the intention of proving the lie covering his father's murder for what it was. Gifted with a charm his father lacked, Elric was intent on changing the perception of the Red Maelstrom's bloody crusade to protect the Aeran people at any cost, and enlisted the support of his cousin Nalios Reymar to do so.

However, his efforts came to a halt during the Eradication War. Against his better judgment, Elric redirected his ship, the Dreadful Kraken, to assist what he believed to be an Aeran warship on fire and under attack by the Host. It was a trap, and one that worked well, as the Aeran Navy felt that Elric and the Maelstrom were a threat to the alliances needed to survive the war against the Host. Elric was put in chains and thrown in the brig of a ship, forgotten... until the Aeran government decided that in this new world, facing new threats, someone like him might be needed.

Conscripted by the Aeran Trident under oath to serve his people as part of his sentence, Elric has been tasked with putting together a group of individuals able to handle threats that present great dangers to the Aerans. Rather than resenting this role forced upon him, Elric has embraced it, not out of a desire for redemption but to continue his mission of protecting the Aeran kin at any cost.